EIS-DK10
Edge Intelligence Server and Microsoft Azure IoT Starter Kit
EIS-D210
Wireless Connectivity Edge Intelligence Server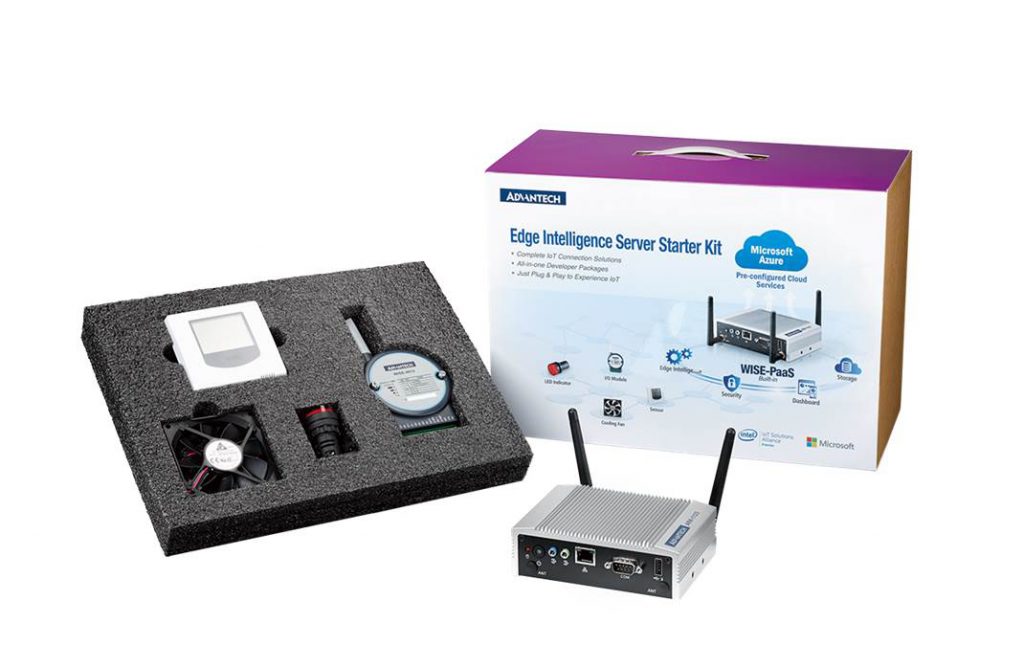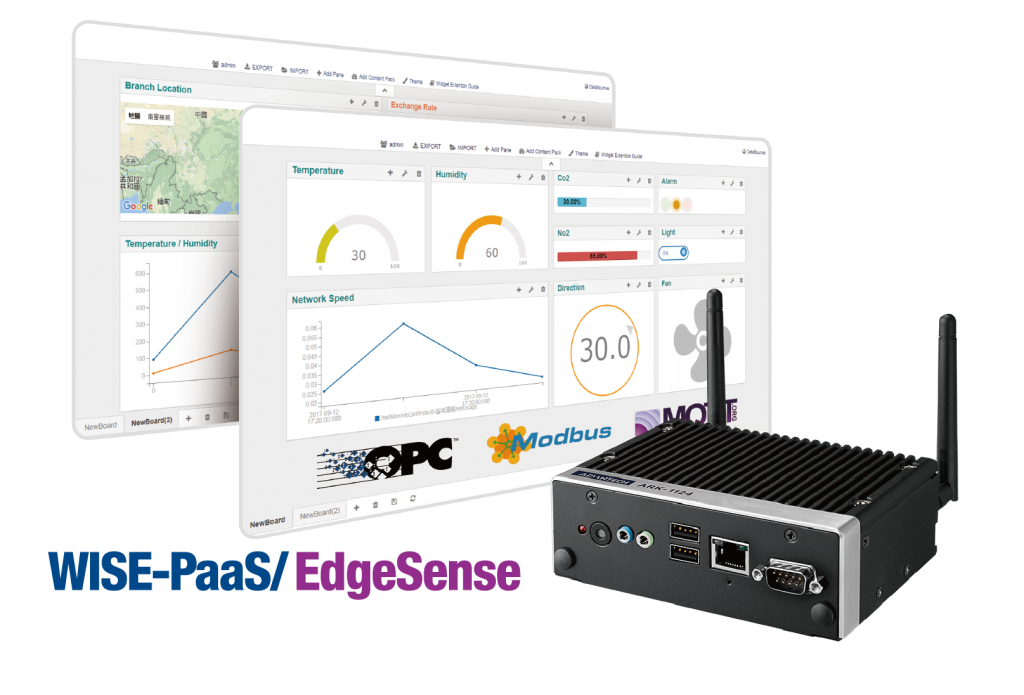 Complete IoT Connection Solutions: includes a ready-to-run edge system, IoT software platform service (WISE-PaaS), wireless I/O module, sensor, and pre-configured Microsoft Azure service
Completed Application Scenario: let customer to experience data collect, analysis and decision making
Pre-integrated Software tool includes WISE-PaaS for data visualization and Node Red flow template for easy development
Pre-configured Microsoft Azure service: Device Management Package (optional)
Includes an edge system, temperature/humidity sensor, Modbus TCP module, LED indicator, fan, and accessories
EIS-DK10 is a starter kit for jumpstarting IoT applications. It offers a complete solution for IoT data collection and intelligence creation from end device, edge network, to the cloud, and provides clear system architecture based on a specific user case. EIS-DK10 is a plug & play package with short steps from device assembly to system settings that makes it quick and easy to start building applications.The package includes a ready-to-run system (Intel® Celeron® J1900 platform with WES7), built-in a series of WISE-PaaS IoT software packages, wireless I/O module, sensor, and pre-configured Microsoft Azure service. With it, you can build and land IoT Application with new innovation and easy integration solution.
Integrated hardware plus software to build up edge-to-cloud applications
Pre-configured system: Intel® Celeron® N3350/E3940 SoC, Win 10 Ent with 4GB Memory, 64 GB SSD and wireless networking
Pre-integrated WISE-PaaS Software Package: WISE-PaaS/EdgeSense and WebAccess/SCADA
Built-in Microsoft Azure IoT Edge and AWS Greengrass for cloud application
Pre-configured Microsoft Azure service: Device Management Package/ Data Intelligence Package (Optional)
Pre-configured AWS service: Connect & Collect Package (Optional)
Comprehensive developer tools and documents: Node-RED data flow logic designer, dashboard builder, protocol plug-in SDK & configuration tools
To fulfill customer requirements in equipment connectivity, data visualization, and predictive maintenance applications, Advantech offers the EIS-D210 Edge Intelligence Server, which is equipped with an Intel® Celeron® Processor N3350 and comes integrated with AWS Greengrass and Microsoft Azure IoT Edge, thus ensuring that IoT devices can respond quickly to local events, interact with local resources, operate with intermittent connections, and minimize the cost of transmitting IoT data to the cloud. In addition to supporting field protocols (MQTT/OPC/Modbus) for sensor/device data acquisition, the EIS-D210 can be used with the Advantech IoT SDK for wireless sensor (Wi-Fi, Bluetooth, LoRa) data integration. Furthermore, the EIS-D210 comes pre-integrated with Advantech's WISE-PaaS/EdgeSense software solution, allowing users to incorporate sensor data aggregation, edge analytics, and cloud applications for fast and easy real-time operational intelligence. EIS-D210 provides a range of connectivity options with excellent data handling and networking connection capabilities for various IoT applications.